Not all retail stores were made equal. Think about it, a retail shop is meant to represent the brand and appeal to the company's target audience. With that said, when your brand is Repossi- the legendary Italian jewelry atelier- and your target audience is the elite looking to spend top dollar on incredible pieces of jewelry, you can believe that your flagship stores are going to be astonishing.
Since Repossi was established in 1920, the Italian atelier has formed a reputation as a family run business at the highest quality. In 2007 Gaia Repossi became Creative Director and Designer of Repossi collections. Since, the brand has kept that same high quality and incredible craftsmanship that it's loyal followers have learned to love, but appealing to an even larger audience.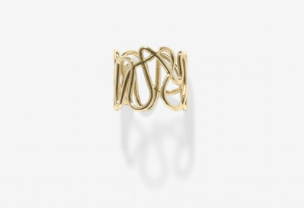 Most recently, Repossi launched it's newest flagship store, the Repossi Place Vendome in Paris France. Designed by OMA/Rem Koolhaas, the new store features a new take on retail. Transforming the 90 square meter space into a world of jaw-dropping finishes, awe inspiring displays and eye catching moments.
Sitting within a historic Parisian square, synonymous with the more expensive retail stores in Europe, OMA had it's work cut out making sure that Repossi's flagship space shined just as brightly as their exquisite jewelry. Pairing up with Data Architects, the team was able to create a retail experience that was not so typical for the quintessential Jewelry shop.
"The underlying idea for the design was to synthesis architecture and display, using the whole space as a stage for Repossi's production" - OMA
Divided into three different levels, the Repossi flagship store allows its customer to customize it's experience as needed. For those shoppers looking for a fast transaction, the ground floor acts as the perfect base to quickly come in, purchase and be on your way. Next, the gallery, allows for that shopper who would like to browse, isn't in such a rush, and wants to enjoy their experience. And finally the basement, the salon, is a space reserved for those high profile clients that spend more and schedule an appointment to do so.
Each floor creates an atmosphere with it's design to reflect what the shoppers mindset might be. With finishes that range from from aluminum foam to tinted mirrors- designed by Sabine Marcelis- that are able to give different degrees of reflection and color pigment. Each space of the Repossi Place Vendome is unique, special, and all around breathtaking.